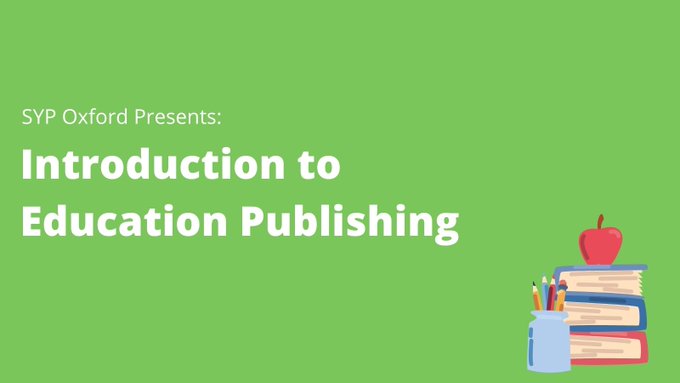 Graphic credit: SYP Oxford.
Graphic credit: SYP Oxford
The education landscape has changed dramatically in 2020, with a lot of learning shifting from the classroom to remote learning. Teachers have done a tremendous job in changing their teaching methods, and parents have had to work hard as well to support their children's learning.
Against that backdrop, what is it that publishers are, and should be, doing in order to support teachers?

On Monday 30 November, I represented Garnet as a panellist for the Society of Young Publishers (SYP) Oxford chapter's Introduction to Education Publishing webinar.

I joined my fellow panellists Prem Hirani, Partnerships Manager at Oxford University Press, Caroline Knox, Senior Marketing Manager at Oxford University Press and Eylan Ezekiel, Senior Product Manager at Pearson, to discuss the shifts in education and publishers' responses.

Our chair for the evening was Charis Edworthy, Events Officer for the SYP.
The C-word
Of course, the C-word came up. Change, that is (not Covid…). The changes brought about by school closures across the world have had a huge impact, not only on the students, but on teachers, parents and publishers too.
The shift to remote learning is a challenge, and one thing publishers can do is to keep in touch with and support teachers with new resources and materials, as well as training. One great benefit of this shift, noted Prem, is that publishers can connect with a far greater number of people that are much further apart, rather than travelling long distances just to see a few people.
Technology is also playing a part, and teachers are turning to social media for tips and support amongst themselves. At Garnet, we're able to share tips and resources with teachers through our social media channels on Twitter, Facebook, LinkedIn and Instagram.
The most important thing, noted Eylan, is for publishers to listen to feedback from teachers and adapt and change to their needs. This year, Garnet partnered with Quizlet to offer a more intuitive online learning experience to teachers and learners.
Getting into education publishing
The second part of the event was to give an insight into the various roles and ways into the education publishing sector.
At the start of the event, we polled the audience about where they were from and what they were most interested in learning about.

Astonishingly, we had participants from as far afield as Turkey, the UAE, India and the USA. Sales, Marketing and Editorial were the three most popular subjects, which was just was well, given the backgrounds of the panellists.
We threw open the discussion to a Q&A, and here are some of the questions that arose.
Do you need teaching experience to work in education publishing?

No, not necessarily.

Of course, there are many different parts of the industry, as evidenced by the panellists' backgrounds.
Prem, for example, was an investment banker who was able to transfer her relationship-building skills with clients to the publishing industry, and Caroline had worked in marketing for mobile phones before joining OUP.
I was an English teacher, and so knowing pedagogy can be very helpful in editorial work, but classroom management skills can be transferred to other areas of publishing. An understanding of the education market in general can certainly be very helpful.
So, don't be put off if you don't have a background in teaching. You most likely have transferable skills that are very desirable, and as long as you have a passion for education you can make those skills work in publishing.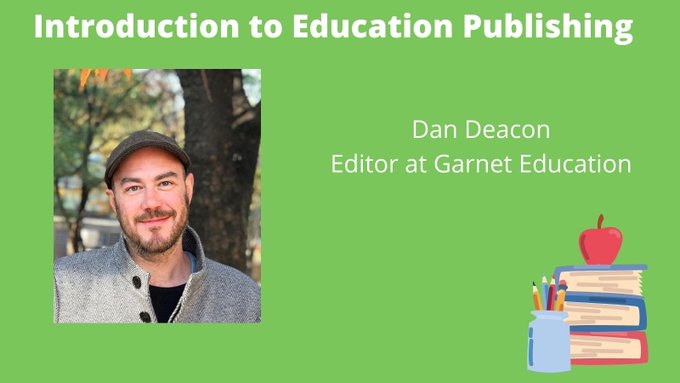 How do I get into education publishing?

Publishing, like any industry, has many different routes into it. One of the best is finding contacts in the industry and networking with them, although this is sometimes easier said than done.
LinkedIn can very useful, as a lot of different jobs get posted there, and there are several groups for publishing professionals. An editorial assistant job can be a great way into the editorial side of publishing, and marketing internships are another way in.

Caroline pointed out that setting up as a freelancer can also be a good start, as many publishers do use freelance staff in various capacities. That is how I began working in publishing, working as a freelance copy editor alongside my teaching.

An organisation like ELT Publishing Professionals is also worth investigating, as they connect publishers with freelancers. So, keep an eye out for publishing jobs, and follow the hashtag #WorkInPublishing to find more resources.
Conclusion
As you can see, 2020 has made some waves in the education landscape, so perhaps there's never been a better time to follow your passion and embark on a career in the industry!
Finally – a big thank you to the SYP for hosting the event, and to Charis Edworthy for organising for chairing and Eleanor Smith for putting me forward for it and doing all the tech stuff behind the scenes.
---
If you do have any questions about getting into the industry, feel free to leave them in a comment below. Alternatively, our Twitter DMs are always open for any and all questions …