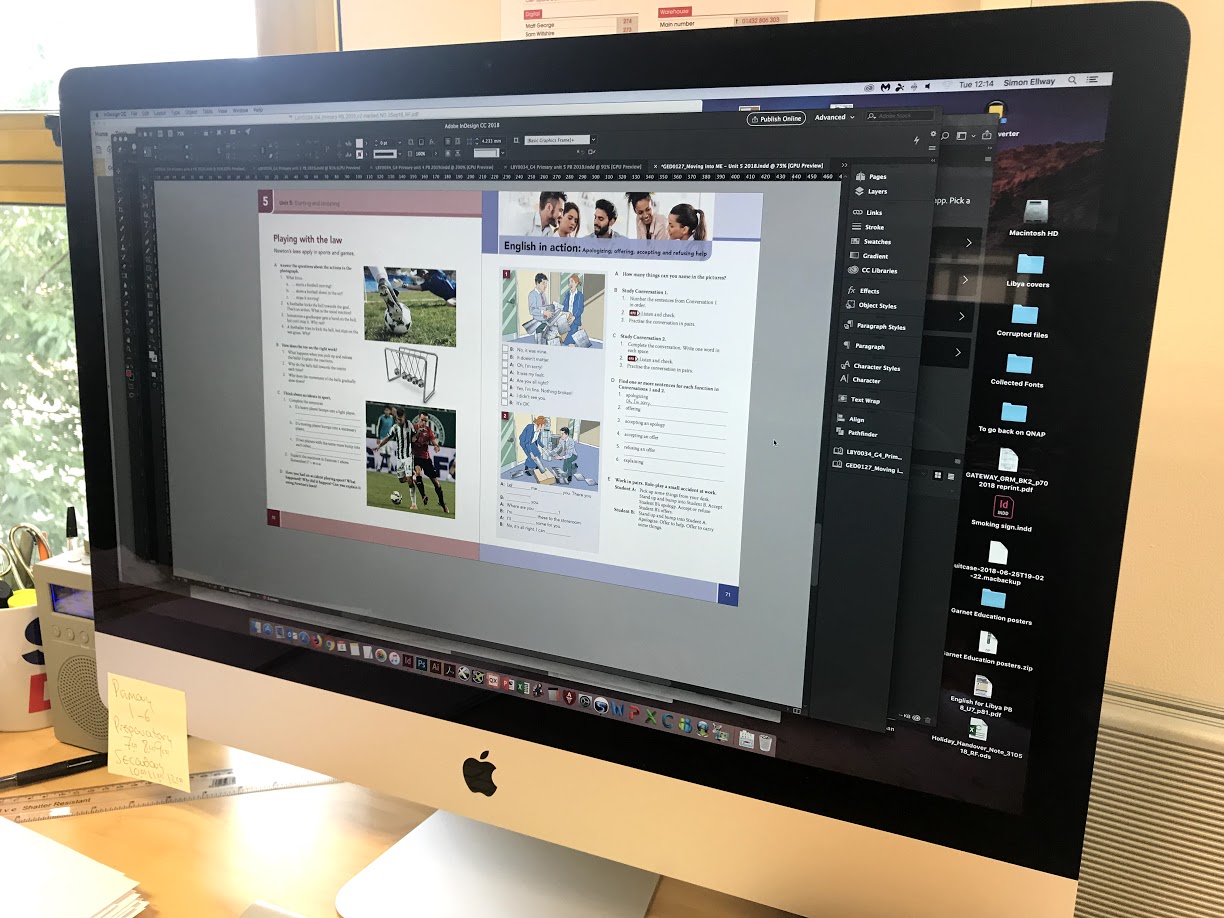 Above: working on a Moving Into book in InDesign.
Simon Ellway is the Assistant Design Manager at Garnet.
How did you get into publishing?
My first job in publishing was when I worked for Capita on a government contract to improve standards in schools called 'The National Strategies'. I started as a print designer and eventually became Senior Designer, managing a team of six designers. I was very sorry when the contract ended as I really believed that the work we did made a difference to schools.
What does a typical day in the office look like for you?
I like to start quite early, usually between 7.15 and 7.30. I normally know what the day has in store for me but I am always prepared for the odd surprise!
What's your favourite part of your job?
The obvious answer is the creative side of the job. For example, designing a new series of books including all the realia and the cover design. It may sound cliched but I also really enjoy all aspects of working as part of a team.

What is your motto?
'Good taste is the enemy of creativity', which is a famous quote by Pablo Picasso. I think it can be applied to all mediums of creative work, especially film.
What is your favourite word/ idiom? Which words or phrases do you most overuse?
'There he is', 'at the end of the day' and probably a few others that I am oblivious to using. I try and avoid saying 'it is what it is' as it doesn't really mean anything!
Which living person do you most admire?
Growing up I really admired the cricketers Ian Botham and Viv Richards when they were in their prime. I also really admire a number of film actors such as Stanley Baker, Peter Cushing, Takeshi Kitano and Chow Yun Fat.
What did you want to be when you were growing up?
A footballer, a cricketer, a rugby player, a fighter pilot, a film director and eventually a film critic (which I still aspire to be). My family profession is teaching and on several occasions I almost chose that particular career path.
What was the last book you read that you'd recommend?
I recently read The Big Sleep by Raymond Chandler. I had already seen the film and the book was every bit as good as I hoped. I would also recommend pretty much anything by Charles Bukowski, Kurt Vonnegut and J.G. Ballard.
A fact about yourself most people wouldn't know?
A 20 minute film I made for my graduation degree show was banned for its controversial nature. My house mate (who went on to direct several direct to video horror films) was very jealous!