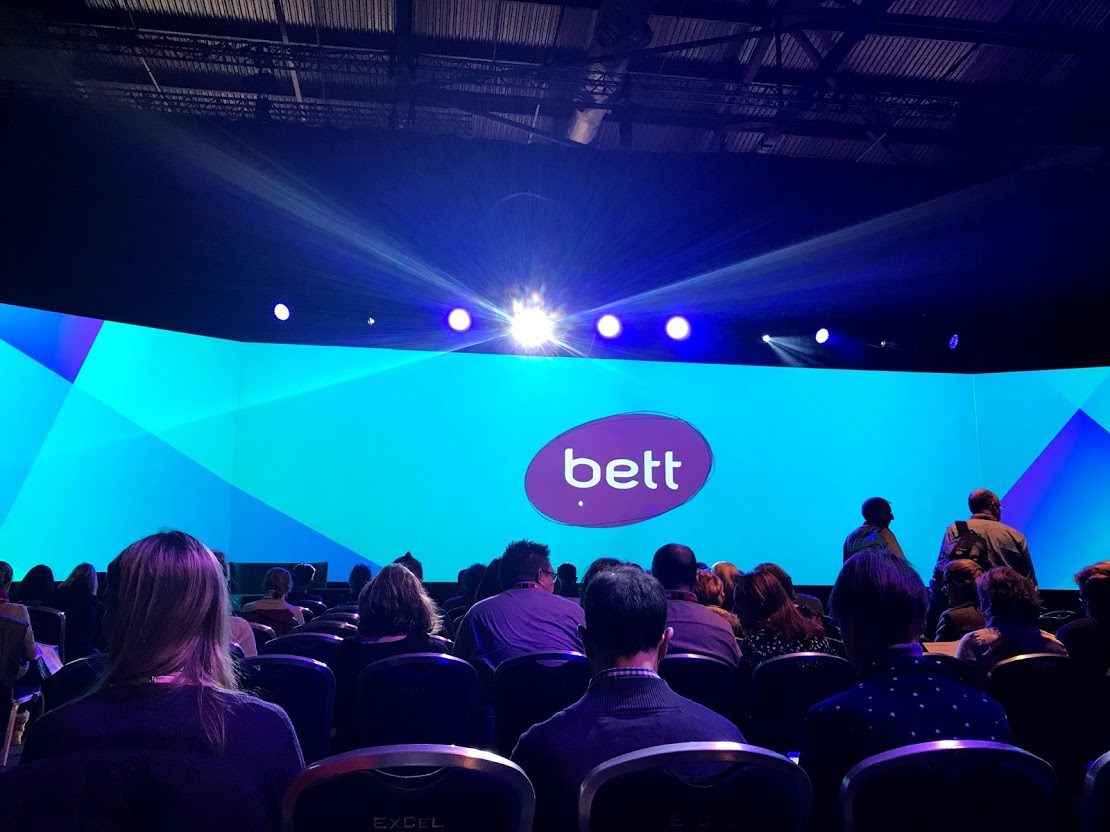 Today is Digital Learning Day! We thought today would be the perfect time to talk about our experience at BETT: an event based on discussing and celebrating technology in education.
A collection of our Digital and Editorial staff attended BETT this year, and came away bursting with ideas. We've pooled our thoughts and here are the highlights!
---
Wednesday 23rd January: Day 1
Rosie, Assistant Editor (Digital)

'Press play on the future of education – learning through media' Omar Said and Kylie Howard, Accelerate Learning STEMscopes
We joined in this talk close to the end, but the message was really strong, that learning through news and media makes lessons more effective. Omar Said proposed that something as simple as an entertaining song, or news story, could go a long way in motivating young learners, by helping them make connections and links in their minds. Their example was about using the song 'Total Eclipse of the Heart' to teach about space and eclipses and other astronomical events. For me, this reinforced the value of collecting interesting and fun news articles to exploit, and the potential to create infographics and short videos out of current news.
Jaz, Digital Assistant
'Lifelong Kindergarten: cultivating creativity through projects, passion, peers and play' Mitchel Resnick, LEGO Professor of Learning Research
In this seminar, Mitch explained why the kindergarten style of teaching and creative learning is important in today's society. He feels that there is no reason to stop this valuable approach after nursery ends, and that the motivation and reinforcement that this produces is valuable at every stage of education. He based the seminar around Scratch, which is a free programming online community where you can code and create online games/stories/animations/videos. The concept was really interesting and the platform allows students to engage with each other and develop coding skills using their own creativity. It's not as simple as solving a puzzle, more like improving and tweaking a project over time as students develop more skills. Whilst not all schools/children around the world will have access to this platform, it is an important tool to consider.
It's definitely an interesting idea to encourage students to model conversations and link their learning to broader applications (real-world or more imaginative and dramatic situations). It could help a lot with practising naturalistic conversational language as well as turn-taking in conversation. There is definitely something to be said for students working together and collaborating online, instead of completing work on their own. It could be something to consider when thinking about digitising Course Books/Workbooks, and considering a way to implement group projects into digital activities.
---
Thursday 24th January: Day 2
Ella, Editor
'Nudge, Stretch, Boost, Connect: Growing Humans in the Digital Age' Alex Beard, Senior Director – Teach For All, Jared Stein, VP of Higher Education Strategy – Canvas by Instructure
Technology can allow for individualised learning so that every student can succeed. The most important inventions boost and engage our minds.
Alex discussed some dangerous ideas about how computers should be and refuted them.
Machines learn: We shouldn't make machines imitate students, as humans are different from computers and their learning is different.
Should be user-friendly: Engagement is not the same as learning. There is a paradox of the 'guided user', as if technology is too user-friendly, this will stop people learning. Our brains are wired not to work if we can help it. Independent learning is better than too much guidance. Should be 'user unfriendly': students need to struggle for their brains to function.
Automate minds: Our hippocampus is diminishing because we use Google maps so much, BUT the ability to use our tools makes us superior to computers. Working together is the key. Google drive is collaborative and allows sts to see how they are doing and help each other.
Jared Stein is the founder of 'Canvas'- an LMS, or Learning Management System. His goal is to automate tasks and free up teachers' time. He agrees that tech should be 'scaffolding' to help students become self-sufficient. This means they still have to work and take on feedback to be good learners. 'Nudge' is a program that notifies students to engage, retake quizzes, turn in assignments on time. The program changes and self-regulates, and so learns to stop 'nudging' when students turn in things on time.
'Empowering your students to become critical consumers of the news' Charlene White, Journalist and Presenter – ITN, Josh Phillips, Project Coordinator, Education, Communications and Technology Programme – Institute of Strategic Dialogue, Steph Neale, Headteacher – Beatrix Potter Primary School
Digital citizenship should be more emphasized in the curriculum, as well as critical thinking. It is not enough to simply teach current affairs, we need to give tools to look at news critically. Kids should be taught to question what they see and look at more than one source. This can tackle 'Us vs Them' thinking and social polarization.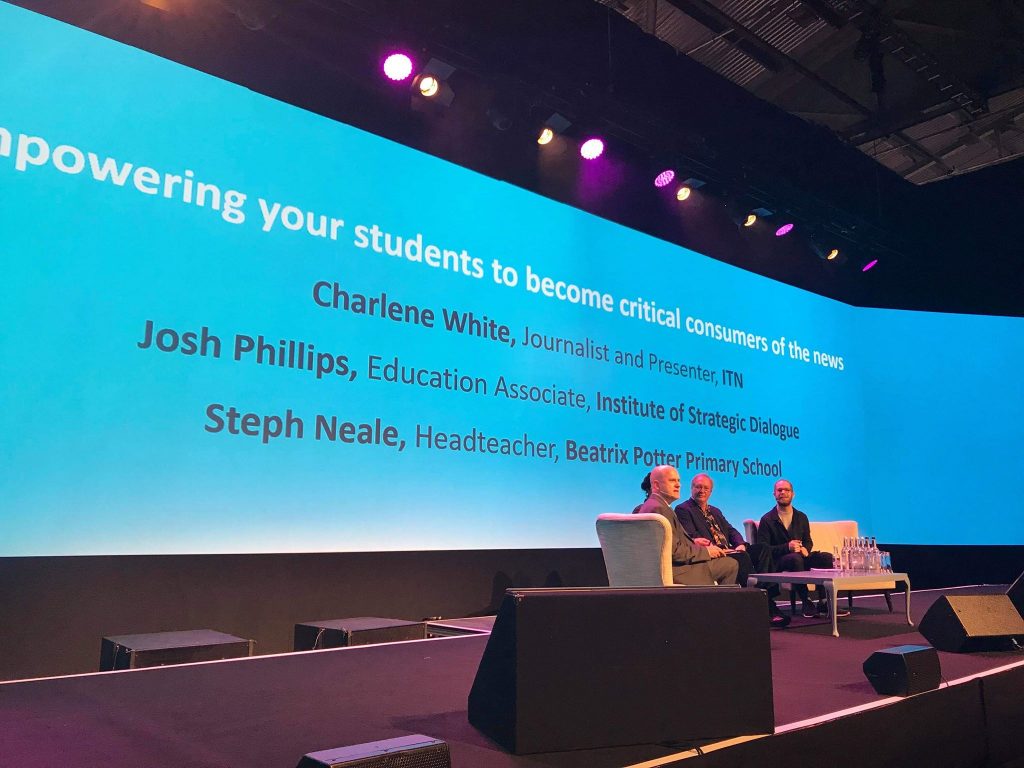 ---
Friday 25th January: Day 3
Chris, Senior Editor
'Fact or fake: developing critical learners in the digital age' Sarah Horrocks, Caitlin McMillan and Peter Lillington, London Connected Learning Centre
This presentation confirmed the difficulty of developing the concept of 'fake news' into a tool of criticism. There is a 'crisis of the information age' whereby the dynamic between the media and the public is poisoned by an increasing disregard for the truth. Thus 'fake news' is competing with 'real news' in a market where consumers find it increasingly difficult to distinguish between the two.
According to Horrocks, McMillan and Lillington, the solution to this is to instil in a new generation of learners a 'digital criticality' — an ability to engage with news using key critical skills, such as 'questioning, hypothesizing, imagining, inferring, observing, interpreting and deducing'. In part, this challenges the receptive modes of interaction most people have with the internet; for example, primary school children on London Connected Learning Centre workshops practise ways of re-manipulating and re-presenting information online, such as doctoring images and videos to fit headlines, or 'remixing' websites using Mozilla's X-Ray Goggles feature. Through this, students will be empowered both to criticise and to create: knowing how easy it is to make 'fake news' is the springboard for engagement which goes beyond our general passivity as news consumers. The possibility that the role of individuals as consumers of the news-product should be challenged by a richer discourse is more powerful than the speakers were prepared to admit. Teachers were exhorted to encourage their students to be more discerning, but excellent workshops aside, they have little control over the enormous power — for bad or for good — which the internet wields over children.
If there is a crisis of the information age, it is not in 'fake news', but rather in the ever-increasing reach of a connection of state and private interests — in news and other mass media — into new areas of our lives, a phenomenon identified by Horrocks, McMillan and Lillington as 'surveillance capitalism'. Just as the concession that children need to be protected from the internet is a means of both transferring and denying its threat to adults, so the insistence that the realm of the news-factual is suffering from infiltration by falsehood is the only remaining course for those who deny that the truth may be used as a tool of mind control. Yet the apparent necessity of engaging is ever-present; the news never stops. Far from needing to become better consumers, children need to be given a world in which they are not obliged at every moment to consume.
---
We had a really informative and insightful few days, and definitely learnt a lot!
Do you use digital technology in your classroom? How do you incorporate it into your lessons?