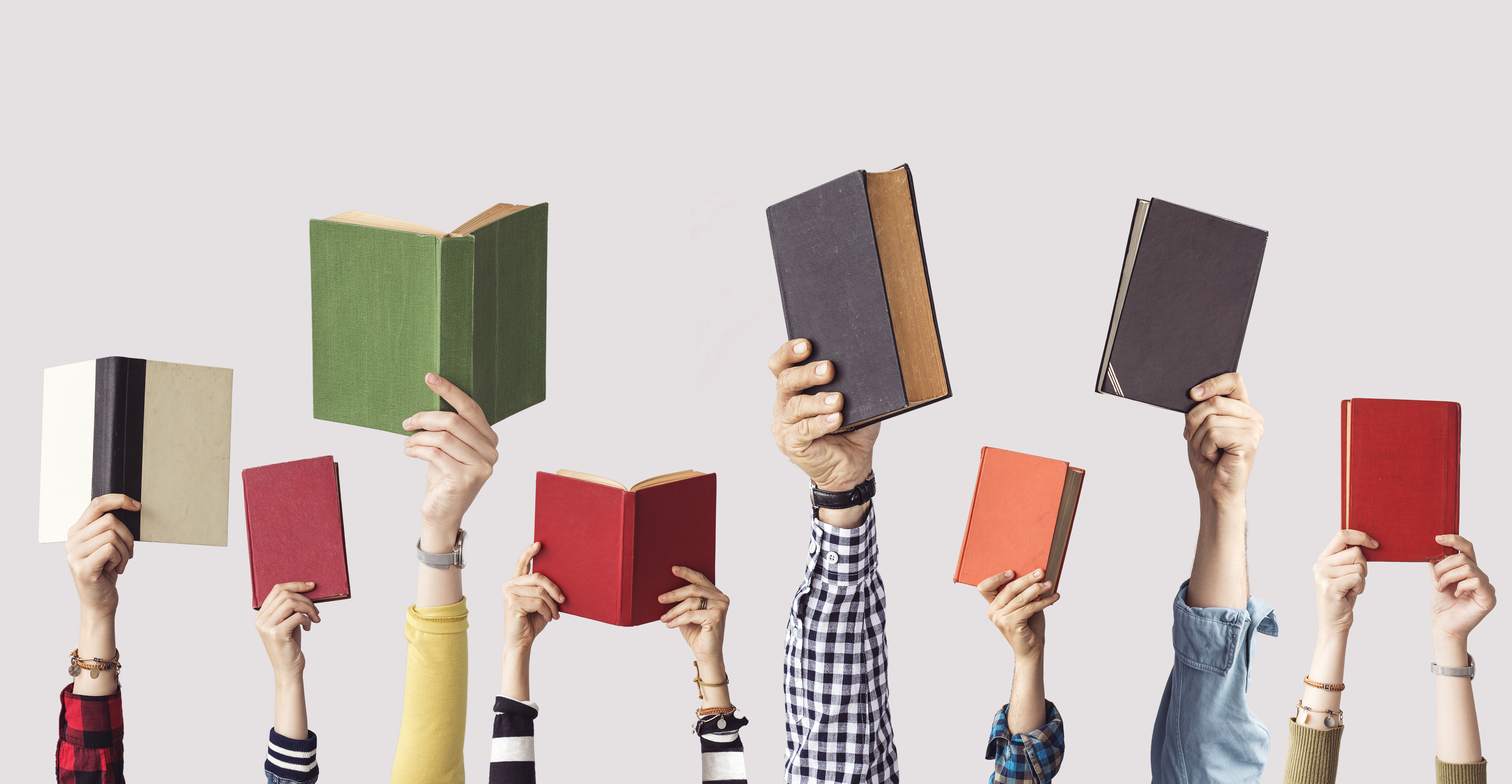 The hands of people hold books
Today we're celebrating National Read a Book Day, and Sunday is the United Nations' International Literacy Day. This year the theme is 'Literacy and Multilingualism', which ties in with UN Sustainable Development Goal 4: Quality Education. One of the targets of this goal is to ensure that by 2030 all youth and a substantial proportion of adults, both men and women, achieve literacy world-wide.
Check out our post for World Book Day from March to see why we think reading for pleasure is particularly important in ELT, and to read about some of our favourite books from childhood.
To mark this very bookish weekend, we thought we'd share with you what we're currently reading, as well as some of the books we think everyone should read at some point in their life.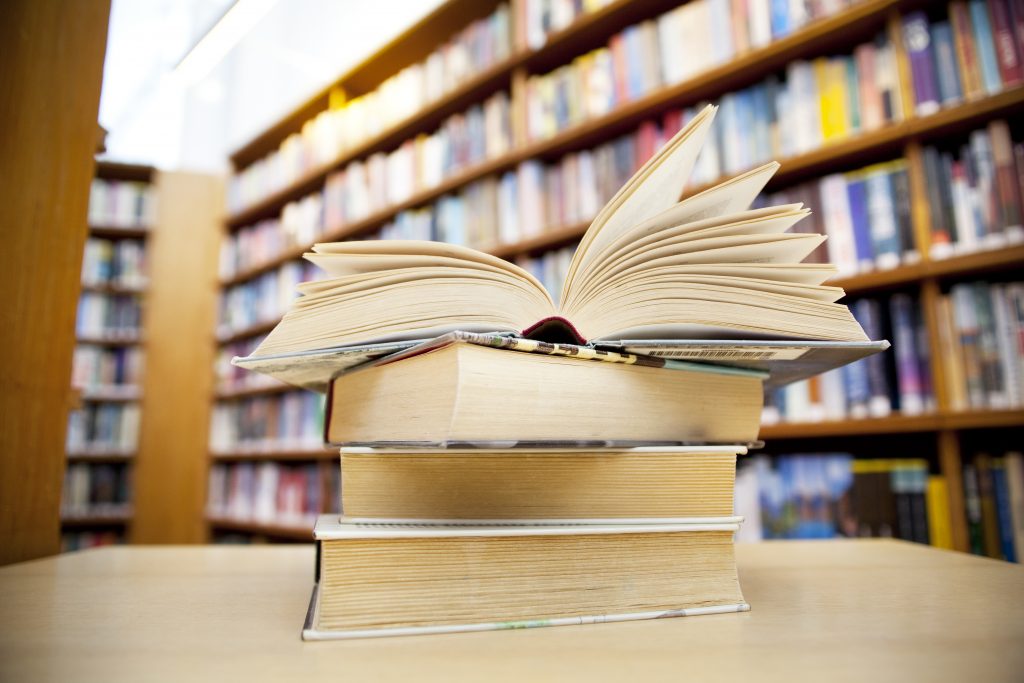 Emily, Production Manager
Currently reading: Wilde About the Girl by Louise Pentland and Big Little Lies by Liane Moriarty
Recommendation: In terms of a book that everyone should read before they die … maybe Wild Swans by Jung Chang, or Anne of Green Gables by L.M. Montgomery? Or the entire works of Roald Dahl. Yikes this is tricky.
Jaz, Digital Editor
Currently reading: The Sea Cloak by Nayrouz Qarmout
Recommendation: The Hate U Give by Angie Thomas. This book is about a girl called Starr whose world is shattered when she witnesses the fatal shooting of her childhood best friend, Khalil. This book gives such an important insight into the lives of many African-American people, and the #BlackLivesMatter movement in America. It's definitely a book I think everyone should read in their lifetime.
Rosie, Assistant Editor (Digital)
Currently reading: Filth by Irvine Welsh
Recommendation: I would recommend everyone read Tess of the d'Urbervilles by Thomas Hardy. It just hits you like a ton of bricks!
Rachel, Publisher
Currently reading: How Should a Person Be? by Sheila Heti
Recommendation: Everyone should read The Ragged Trousered Philanthropist by Robert Tressell before they die, imho.
Doug, Illustrator
Currently reading: HHhH by Laurent Binet and Between the Sticks by Alan Hodgkinson.
Recommendation: The Keeper by Mal Peet.
It's really a book for young adults – but I've read it many times.
It's about a boy born in the Amazon jungle who goes on to become the best goalkeeper in the world. El Gato (The Cat) learns his goalkeeping skills from a ghost of a legendary goalkeeper in the forests – its written by someone who understands the loneliness of being a goalkeeper & someone who understands life.
Mike, Design Manager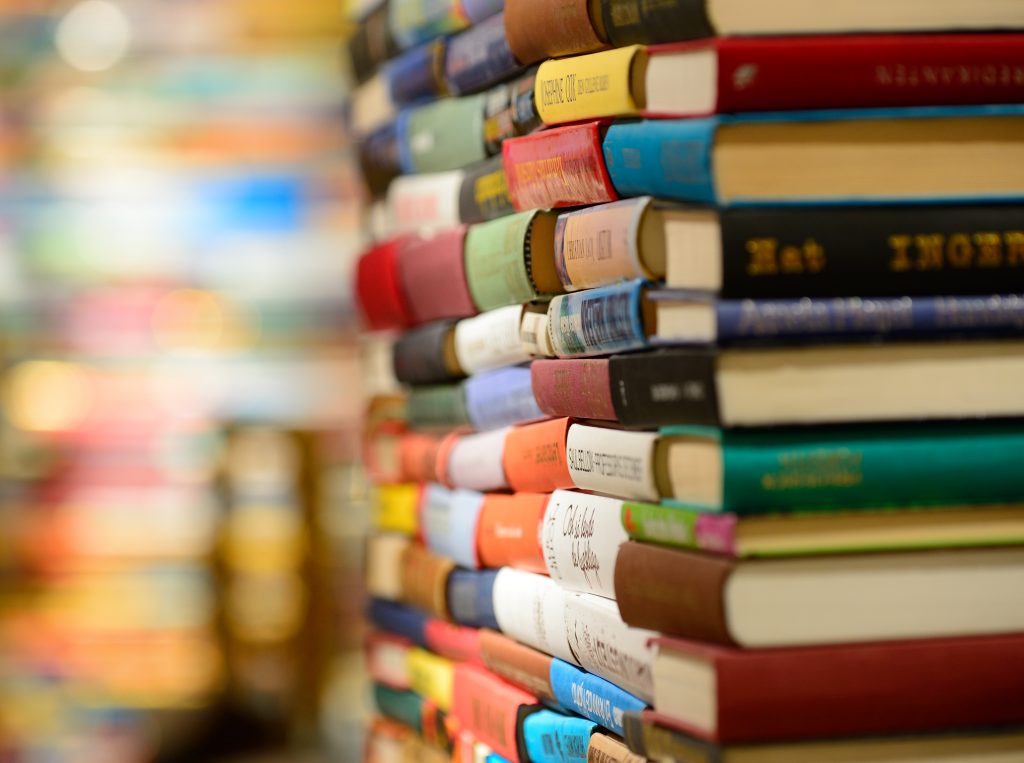 Currently reading: Catcher in the Rye by by J.D. Salinger, and Monkey by Wu Cheng-en (translated by Arthur Waley).
Recommendation: To Kill a Mockingbird by Harper Lee. Beautifully written and really paints a picture with words that grips you from cover to cover. Also has messages which are still important and relevant (sadly). I think everyone should try to be a little more Atticus Finch!
Ella, Editor
Currently reading: Moon Tiger by Penelope Lively.
Recommendation: Rebecca by Daphne du Maurier. It's gothic and suspenseful and the characters are superbly written.
Kate, Senior Editor
Currently reading: My Friend Anna by Rachel DeLoache Williams
Recommendation: Noughts and Crosses by Malorie Blackman, because it confronts our racial prejudices and makes you think about how the world could be very different.
Chris G, Academic Director
Currently reading: There There by Tommy Orange
Recommendation: A Handful of Dust by Evelyn Waugh. If you seek love, pleasure, guilt, retribution and punishment, you'll find them and all the rest of human life here. I can make a passable case for this being the greatest novel written in the English language. At least in my world. A close number two is The Scapegoat by Daphne du Maurier.
Oonagh, Development Editor
Currently reading: All Cheeses Great and Small by Alex James
Recommendation: The Catcher in the Rye by J.D. Salinger because of its economy of language and perceptive insight into adolescent struggle.
Matt, Digital Manager
Currently reading: Normal People by Sally Rooney
Recommendation: I recommend everyone who is suspicious of poetry as a genre to dip in and out of the contemporary(ish) poetry collection Staying Alive: Real Poems for Unreal Times, and the two follow ups, Being Alive and Being Human. Find a poet or two that you like, don't try too hard to understand exactly what's going on word for word, and read them often.
Alice, Publishing Assistant
Currently reading: War of the Worlds by H.G. Wells, and Half a War by Joe Abercrombie
Recommendation: The Vegetarian by Han Kang. It's a brutal look at bodily autonomy, mental health, sexism and entitlement, all in the context of a South Korean woman deciding to stop eating meat. Read it when you're ready to question your own biases (and maybe not on a day you're having steak for dinner).
Chris L, Senior Editor
Currently reading: The Apprentice's Sorcerer: Liberal Tradition and Fascism by Ishay Landa
Recommendation: The Black Jacobins by C.L.R. James. The extraordinary story of a successful slave revolt and the founding of the first modern black state; a definitive parable of capitalist destruction; and a call to arms for 20th-century Africans. One book by a truly masterful writer.
Simon, Assistant Design Manager
Currently reading: Dark Places by Gillian Flynn
Recommendation: Catch 22 by Joseph Heller. Not only is it one of the greatest anti-war novels ever written, it also brilliantly demonstrates the ludicrous bureaucracy involved in administering modern warfare.
Between National Read a Book Day and International Literacy Day, we hope you find time to read something good this weekend!